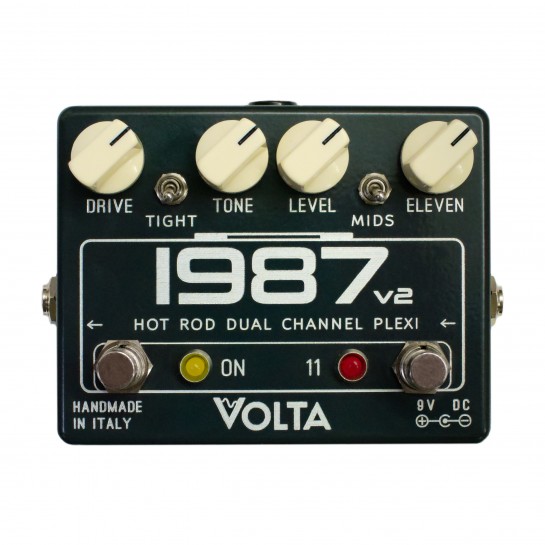 View larger
1987
1987 - Hot-Rod Dual Channel Plexi Overdrive Distortion
Availability date:
Availability:
This product is completely hand made.

From the date of purchase it can (in this period) take up to a maximum of 30 working days (Mon-Fri) from the order date for the construction, testing and complete calibration.
We will build it just for you, and we will include a little gift as well!
The sound of the most SWEATY and LOUD-MOUTHED Rock.
The sound of a Plexi pushed to the max.
With the volume on ELEVEN.
NEW VERSION 2 with:
- MIDS control!
- SMOOTHER volume handling!
- Even MEATIER TONE!
- Even more DYNAMICS!

This pedal is a tribute to the British saturation that has made the history of Rock. From the JTM45, to the 1959 Super Lead, to the 1987 that is the 50W Super Lead... amplifiers that were often pushed to the max and modified to have an even more aggressive character, mods that gave life to the concept of HI GAIN: all of this is "VOLTA 1987".
Two hot-rod channels for the purest ROCK.
Both the "ON" and the "11" channels behave like a dynamic single channel amp, one hotter than the other one: with the guitar volume and your touch you can easily control and clean up the saturation,  This pedal also can "eat" other pedals placed on its input, just like a true amplifier would do.
DRIVE: from semi-clean rich in harmonics, sensitive to touch, to the saturated crunch of so many records, unmistakable and fun to play.
TIGHT: 3-position control to set the grain and definition of the pedal, or even to adapt it to a single coil or humbucker:
1) down: fat and grainy both on the normal channel and on the ELEVEN channel.
2) center: tight on both channels.
3) up: tight on the normal channel, fat on the ELEVEN channel.
TONE: tone control. Used together with the TIGHT switch, provides a very varied palette of sounds.
MIDS: 3-position control to set the level of MID frequencies, to match the pedal with your personal taste and preferred amplifier.
1) up: humped mids, like 1987 V1. Born to stand out in the mix.
2) center:  flatter mids, for a more neutral tone.
3) down: lightly scooped mids, to match with mid-heavy cabinets or amps, or to enter in metal territory.
LEVEL and ELEVEN: independently control the volume of the two channels, for an always controllable effect.
Dimensions: Width 12 cm (4.72 in). Heigth 9.5 cm (3.74 in). Depth 5.3 cm (2.1 in).