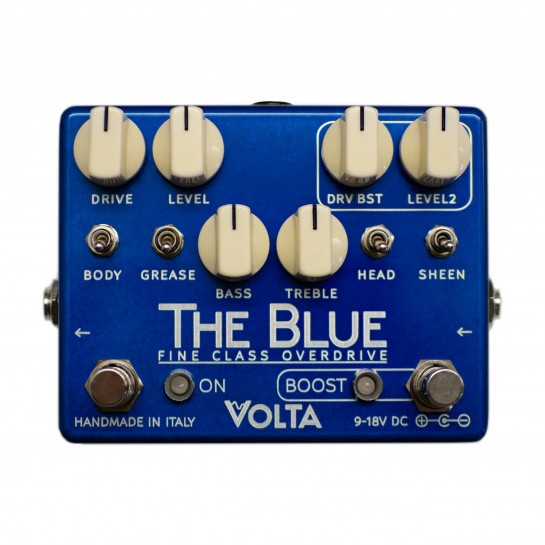 View larger
THE BLUE
The Blue is a handmade overdrive pedal that preserves the original tone of the guitar. An effect with unmatched transparency and touch sensitivity.
Availability date:
Availability:
This product is completely handmade. From the date of purchase it takes about 30 working days to assemble, test and do complete calibration. We will make it just for you, and it will be shipped with a little gift from us!
"The Blue" is a high-performance overdrive.
It is capable of astounding transparency and touch sensitivity: even if it can reach very high saturation levels (from crystal clear "cleans" to pushed "hard rock" territory), it respects your instrument original tone, and it gives back all its peculiarities. Moreover, adjusting picking strength or hand touch, you will obtain many shades of saturation depth, and all the upper harmonics you desire: just play with your instrument volume knob and with your touch and you will enjoy the palette of tone variations this pedal can create.

The bypass is the True Bypass type: in this mode the pedal is electrically isolated from the signal and cannot influence it in any way.

The multiple controls let you tweak many points of the signal chain that "The Blue" is processing.

A two band equalizer lets you modify the bass and treble level at will, and in flat position it doesn't affect the general tone. In any case, the levels, frequencies and equalization curves have been chosen to give always a musical response whatever be the knobs position.

It also provides an additional channel with a double "BOOST": when turned on, it works simultaneously in pre gain and post effect level; the two boost are independently adjustable, in order to perfectly tweak the desired additional drive and volume level.
VIDEO REVIEW of "The Blue" by Alessandro Barbetti for Accordo.it
NB: in this review DRIVE is set to maximum and just the guitar volume knob is rotated, to show the transparency and dynamics of the pedal: from absolute clean to solo saturation.