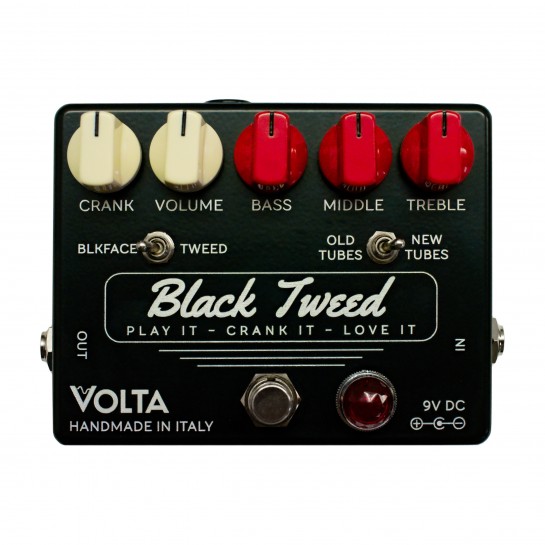 View larger
Black Tweed
Black Tweed - The American School of Amplification, in a Pedal.
Availability date:
Availability: This product is no longer in stock
This product is completely hand built.
From the date of purchase, it requires about 20 working days for assembly, setup and final testing.
We will build it just for you, and we will include a small gift with it!

Black Tweed is the American School of Amplification... in a pedal.
- BlackFace or Tweed? Play 'em both!

- Brand new tubes or... road-worn ones? Flip a switch and choose.

In every clean guitar part you need a rich, harmonic clean sound.
The "vanilla" sound of a flat preamp is boring to listen to and to play.
And the owners of the historic tube amps know that in order to get that tasty sound breakup, that expressive tone, you have to play at great sound volume, that is often not easy to deal with.
And if you want to go over that, to get that structured crunch, you have to saturate the power tubes too, but then the sound pressure can get unbearable.

Black Tweed brings you exactly those sounds, but at the volume you want, retaining all the dynamic reponse of the great classic American tube amps.

The full eq works in tandem with the CRANK control: not only lets you set the tone you want, but if you set CRANK high enough, it shapes the saturation type. This is exactly how a real cranked tube amp behaves, because the tone controls have also an influence on the power amp section saturation.

Switch to BLKFACE mode, for a big rich clean, but always breakup-ready if you really dig into the strings with big dynamics, or to TWEED mode, to have a more mid-focused sound, crunch-easy, with saturation always at hand, as soon as you play harder.
Old or New Tubes? When you put a new tube set in you tube amp, you get more power and volume, and more presence and clarity. But there are also iconic sounds that were obtained with tubes that weren't brand new, and they produce a more mellow and rounded sound, and are more saturation-prone. With this control you can choose the tube age, and you'll get the best of both worlds.
Black Tweed. The American School of amplification.